PROPANE TANK EXCHANGE
WE'RE RIGHT ON THE WAY & READY TO GO!
Propane Tank Exchange is as Simple as 1-2-3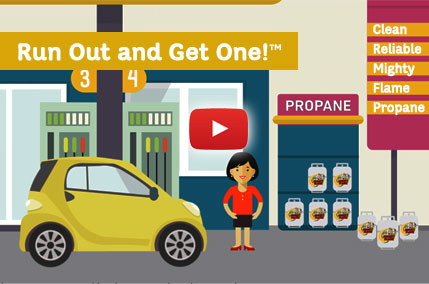 It's grilling time and Mighty Flame is "right on the way" when you need a fresh, clean, tested and certified propane tank for your outdoor grill, patio heater, or other propane appliances.
At Mighty Flame, we along with our propane exchange retail partners are dedicated to taking care of our loyal customers who are on the go and need the convenience of being able to exchange their propane cylinder quickly and easily.
With our always on hand and in stock guarantee, you can be assured that there will always be a clean, tested and ready-to-go propane cylinder available whenever you need it.
Exchanging Your Propane Tank
Take your empty propane tank to the Mighty Flame location near you.  Leave it next to the outside Mighty Flame propane cylinder exchange cabinet.  Do not take it into the store.
Go inside and purchase your new Mighty Flame exchange cylinder.  A store employee will accompany you to the Mighty Flame cabinet and give you a fresh Mighty Flame propane cylinder.
Put your new propane cylinder in your car and you're ready to let the good times begin.  Be sure to always transport your Mighty Flame cylinder in an upright position and always keep it away from excessive heat and open flames.
Why Choose Mighty Flame Propane Tank Exchange
MIGHTY FLAME RELIABILITY. We have built it's reputation on reliability. We're right on the way home and we're there when you need a fresh, clean replacement propane cylinder.
TAMPER RESISTANT PACKAGING. The Mighty Flame Tamper-Resistant Shrink Wrap Sleeve is designed to guarantee the integrity and quality of every MIGHT FLAME cylinder you purchase.
METICULOUS ATTENTION TO DETAIL. Mighty Flame's state-of-the-art propane cylinder refurbishing and safety inspection guarantees that each and every Mighty Flame propane cylinder is clean and freshly painted; precision-filled; leak-tested; fully inspected; and branded for delivery to our retail partners.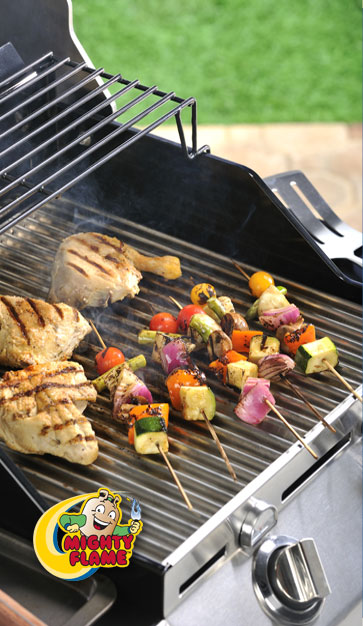 We're Right on the Way!
Backyard or campground, poolside or lakeside, the best times are always centered around good friends, good company, and good food.
With our retail partner's Mighty Flame propane tank exchange locations across the United States and Canada, the outdoor BBQ tradition continues because Mighty Flame propane always right on the way and ready to go!